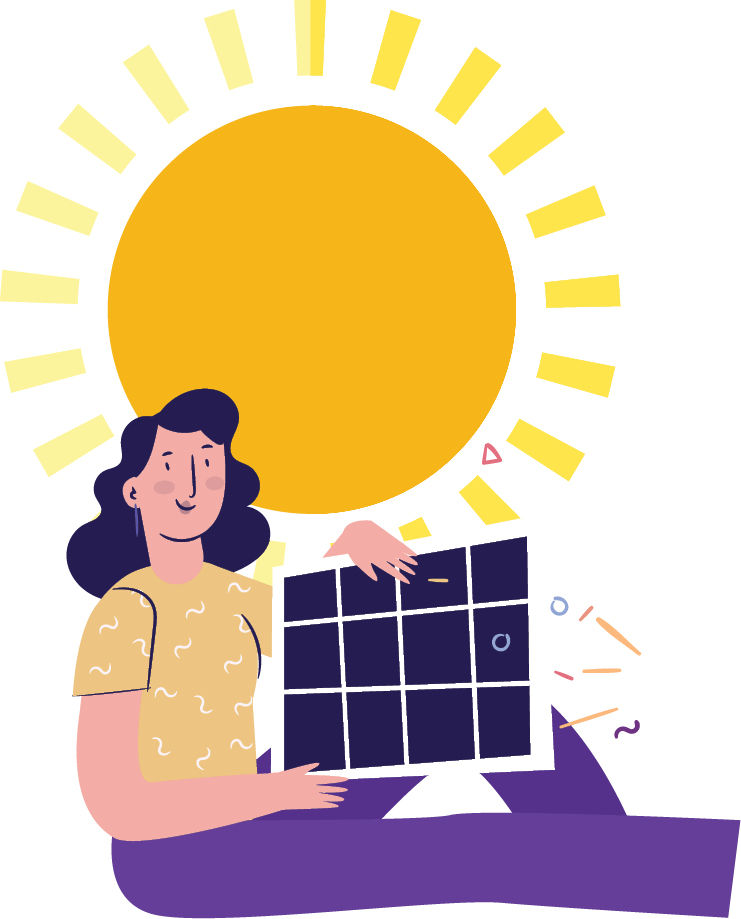 Solar photovoltaic (PV) panels are no strangers to us today as they have become more and more commonly used in buildings around the world. Sustainability and lower electricity bill charges are the main reasons more building owners are embracing solar energy and technology.
For individual homeowners, the most attractive draw is probably the cost reduction in electricity usage, which can be quite significant in the long term. But is solar energy a worthy investment in Malaysia? What are the steps to getting one's home "solar energised"?
The NEM scheme
Currently, the Malaysian government offers the Net Energy Metering (NEM) scheme to calculate the billing of electricity for people who have solar PV panels on the roof of their buildings in Peninsular Malaysia.
The NEM is a solar PV implementation mechanism that is executed by the Ministry of Energy, Science, Technology, Environment and Climate Change (MESTECC), regulated by the EnergyCommission (EC), and implemented by the Sustainable Energy Development Authority (SEDA) Malaysia.
Under NEM, users will consume the electricity generated from solar energy first and then sell back any excess solar-generated energy to Tenaga Nasional Bhd (TNB) to offset the electricity that their premises have consumed from the grid at the end of the month, SEDA Malaysia CEO Dr. Sanjayan Velautham tells EdgeProp.my.
A homeowner who generates more electricity than the household can consume is allowed to roll over the excess electricity to be used for a maximum of 24 months.
Since Jan 1, 2019, the NEM has been enhanced by MESTECC and excessive solar-generated energy will be sold back to TNB on a "one-to-one" offset basis that follows the TNB tiered tariff rates, instead of a displacement cost of 31 sen per kilowatt hour (kWh) previously.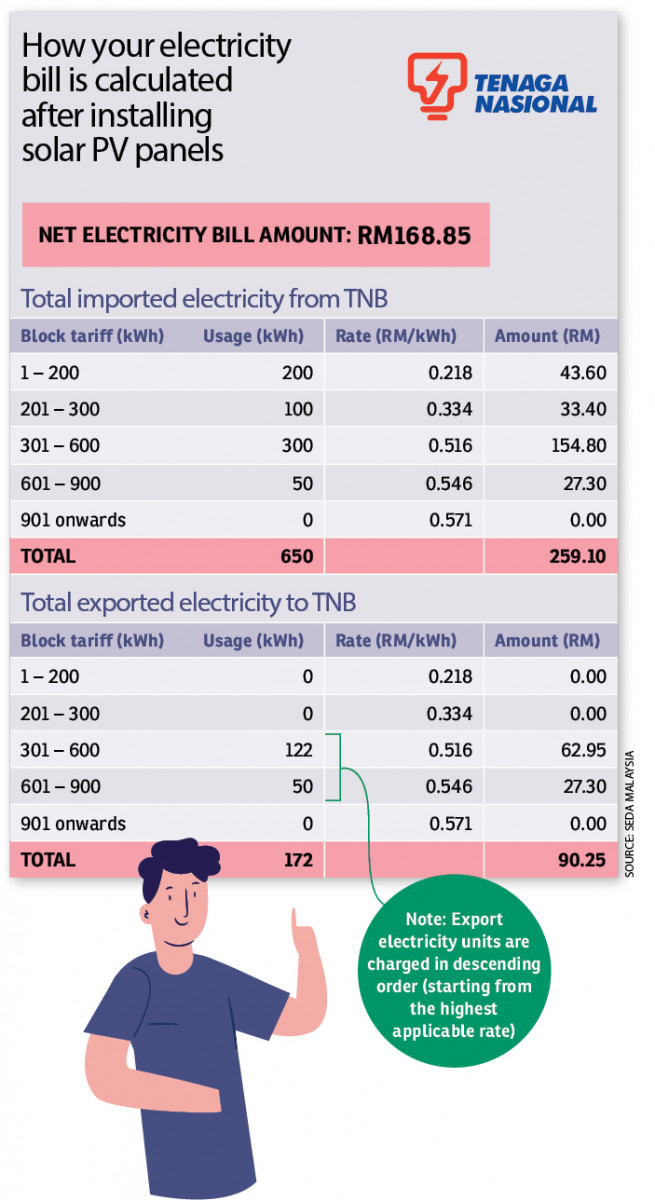 Notably, the selling price for excess solar energy will be calculated according to TNB's tiered tariff rates and eventually, one will only need to pay the differential sum, explains Sanjayan.
"In your bill, you will first use the solar energy that you produce in your home, and if your solar panel is producing more than is required for use, [the excess electricity] will be sent out [to the grid] and the meter will capture how many kW is going out. And when you don't have [sufficient solar energy] – especially at night – you will start importing from the grid," he adds.
For example (see sample bill), if you have imported 650kWh of electricity from TNB and exported 172kWh of excessive solar energy that you have generated in a month, your net payable amount will be RM168.85 after deducting the value of the energy that you have sold to TNB.
NEM's take-up picking up
NEM was introduced in 2016 with a quota allocation of 500 megawatts (MW) up to 2020 for qualified applicants to adopt the use of solar PV system.
Of the 500MW, 50MW is allocated for domestic customers or residential buildings. The balance is allocated for non-domestic customers, which consist of commercial, industrial and agriculture properties.
Sanjayan says the uptake for NEM was slow before the scheme was enhanced by MESTECC recently as the displaced price of selling excess solar energy to TNB had deterred people from taking it up.
However, thanks to the implementation of the "one-to-one" offset concept, the uptake of the NEM scheme has gained momentum since the beginning of 2019, he adds.
Data from SEDA Malaysia shows that only about 21.77MW were taken up from 2016 to 2018, of which 17.07MW wre approved for last year.
In comparison, for 2019, as at May 15 this year, some 17.97MW of quota have already been taken up surpassing the full year figure for 2018.
There are also some 0.08MW approved by the agency which are expected to be commissioned in 2020, making the total uptake for NEM since 2016 to total about 39.82MW up till May 15 this year.
"We have seen a much higher uptake for NEM from the industry and domestic [customers] since January this year and we hope to continue this trend," says Sanjayan.
One of the issues that is hindering the uptake of NEM, he adds, is the low awareness among the public.
To tackle that, SEDA Malaysia has embarked on several initiatives to help potential solar PV system applicants to understand the application process better including the setting up of a new website which features a renewable energy microsite and an NEM calculator.
"In our website, we have put up an infographic that users can interact with [for details on NEM and solar PV purchasing options]. There is also a calculator which can tell you the size of solar panel that you may want to put in your house, how much you can save and the payback period," offers Sanjayan.
Benefits of having solar PV panels
When you have solar panels installed in your house, one of the benefits that you can enjoy is energy savings that could potentially range from 54% to 87% depending on the amount of energy used and the rooftop size, according to GSPARX Sdn Bhd.
GSPARX is a wholly-owned subsidiary of TNB as well as a registered solar PV investor under SEDA Malaysia.
For domestic customers, it offers standard solar PV installation sizes that range from 2kW to 12kW with prices from RM4,500 to RM8,500 per kW.
Producing your own energy could also act as a hedge against the potential hike in conventional electricity tariffs in future.
"When you put a solar panel on your house, you are a 'prosumer', which means you produce and consume the electricity from your solar panel.
"In general, payback period for solar panels is about six years and with a lifespan of approximately 20 years long, one will enjoy the full benefits of the solar panel after the payback period," says Sanjayan.
It may cost a little bit more for one to adopt the solar technology now, but it will be worth it in the long term, he adds.
Some may be concerned about the cost of having solar panels, but Sanjayan says there are many purchasing options being offered by solar players in today's market while the prices for solar PV panels have been going down over the past few years.
According to him, the most commonly used panel — polycrystalline solar PV panel — is now averaging at about RM4,500 per kW in Malaysia, about 62% lower than in 2011.
Besides using cash, credit card or taking up a personal loan to purchase these panels from a service provider, one can also opt for leasing options that may not require an upfront fee, such as solar power purchase agreements (PPA) and solar leasing programme offers by investors.
"[The process] is quite easy. Just go to SEDA's website and there is a list of registered solar PV service providers and investors. You should call up about two or three of them and choose the package that suits you best," he says.
The service provider or investor will assist the applicant, who has to be a registered TNB customer and not blacklisted by TNB, to apply for the NEM, and install the solar panels and the NEM meter.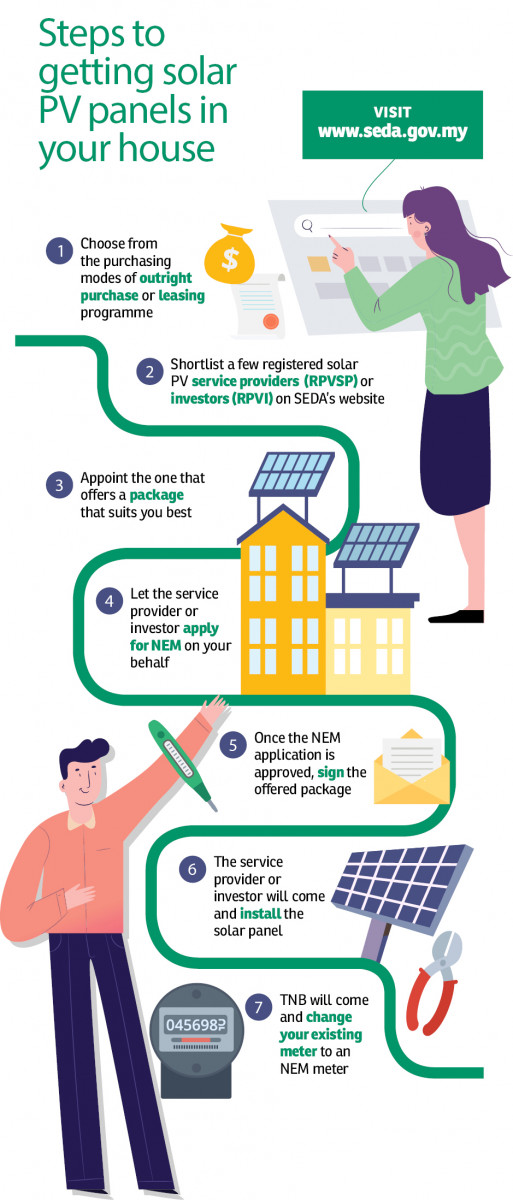 "We advise people to use the service providers and investors who have registered with us because they are already certified by us. They have been verified by us and thus we know the business exists," he continues.
Currently, there are about 110 solar PV service providers and 27 solar PV investors registered with SEDA Malaysia.
While it is worth noting that NEM is open to landed homes, such as terraced houses, semi-dees and bungalows, it is also available for non-landed properties on certain conditions.
For non-landed stratified buildings like apartments and condominiums, the NEM is only applicable to the management body, i.e. Joint Management Body or Management Corporation and the electricity that is generated from the solar panels can only be used for the common areas, Sanjayan notes.
To get it done, the management body will need to work out a plan and apply for the NEM with a service provider or investor before entering into an agreement under its name, he adds.
"What would be logical [for a stratified building] is to cover your common area with solar energy, so that you don't charge the owners [so much], which in turn benefits them," he elaborates.
P2P solar energy trading platform in the pipeline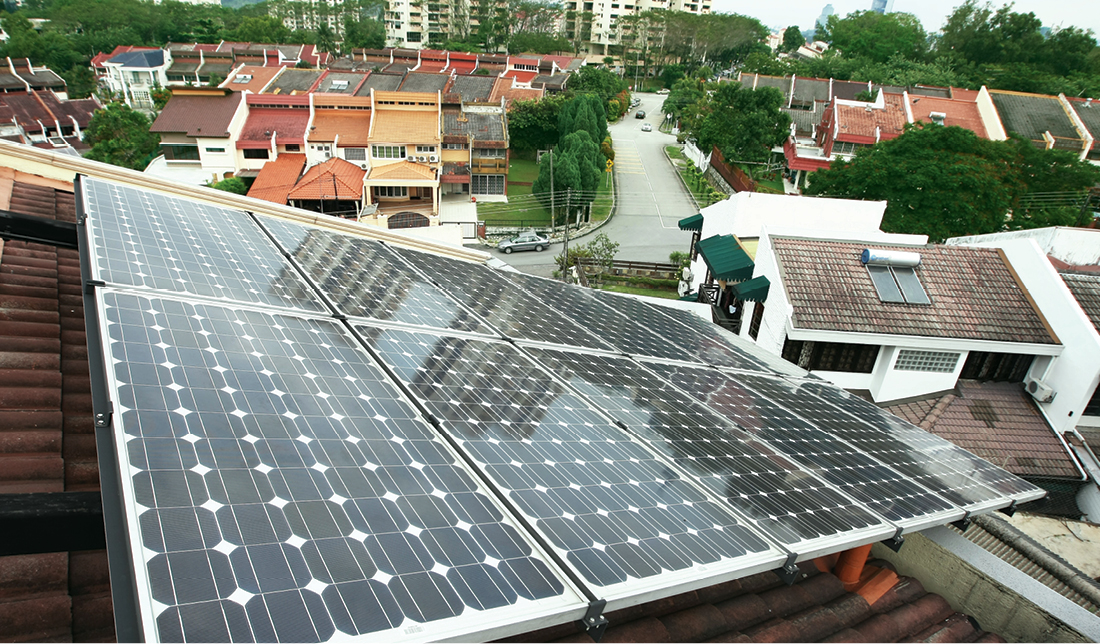 The government is mulling the introduction of a virtual peer-to-peer (P2P) energy trading platform that allows solar prosumers and electrical consumers to trade excess solar energy.
SEDA Malaysia CEO Dr. Sanjayan Velautham says the platform, which will utilise blockchain technology, is part of the upcoming Renewable Energy Transition Roadmap (RETR) 2035 that aims to raise renewable energy share in the national power mix to 20% by 2025.
Through the P2P platform, he says solar panel users can sell their excess electricity to anyone in the system, including those who don't have solar panels but want to buy green energy.
The buyer or seller would only need to pay a certain amount to TNB to use the company's infrastructure to complete the electricity transmission – just like driving a car on the highway and paying the toll for using the road, he explains.
Similar to the Open Electricity Market in Singapore, the P2P platform will be an open market as opposed to the current regulated situation where TNB buys the excessive electricity from solar panel users, he adds.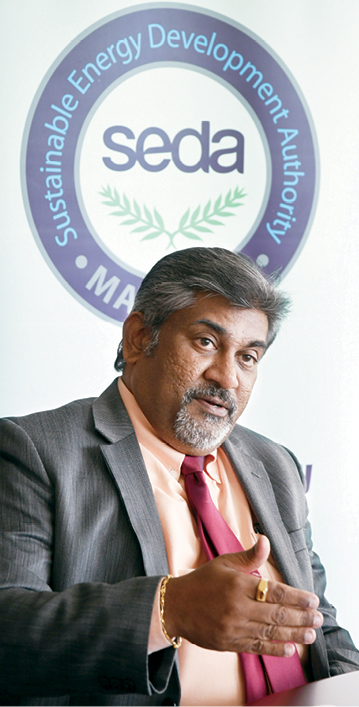 "Within the roadmap, one of the objectives is to study the strategies of this P2P platform. With that, we have already engaged many meetings [with TNB, Energy Commission and the energy sector of MESTECC]," offers Sanjayan.
A task force has been formed to look into the set-up of the platform, and pilot runs are expected to be conducted sometime next year to test how it works within the regulatory framework, before it becomes fully operational.
Nevertheless, Sanjayan says the government is still working on the details and nothing is cast in stone at the moment.
"We are still working on the details. Many countries have started to test it, such as Thailand, Australia and Singapore. So hopefully next year, Malaysia will have a platform to test it. The aim is to bring prices down and thus benefit consumers and people who don't have solar panels but want to have cheaper green energy," he points out.
"During the pilot run, we are going to have a sandbox of a small area within a certain radius to test this kind of trading to [examine] the way it works and how to ensure the security," he adds.
Link: https://www.edgeprop.my/content/1541671/go-solar-and-save-your-electricity-bill