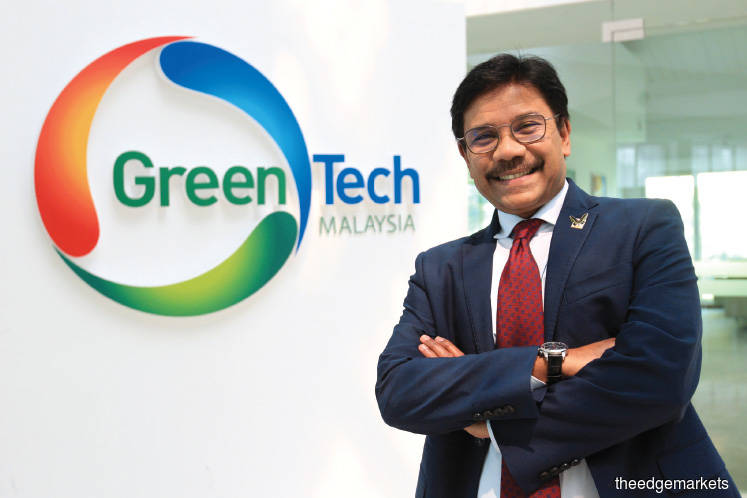 Photo source:  Go green or be left out — GreenTech Malaysia, link: https://www.theedgemarkets.com/article/go-green-or-be-left-out-%E2%80%94-greentech-malaysia
KUALA LUMPUR: The Malaysian Green Technology Corp (GreenTech Malaysia) is calling for the private sector to increase its investments in green technology in order to ensure the country's sustainable development.
GreenTech Malaysia acting chief executive officer Syed Ahmad Syed Mustafa said there is a need for more involvement from the private sector, especially given the fact that Malaysia has pledged to reduce its greenhouse gas emissions by 45% by 2030 in relation to the country's 2005 gross domestic product under the Paris Agreement in 2016.
The Paris Agreement is a multilateral environmental agreement under the United Nations Framework Convention on Climate Change, and aims to strengthen the global response to climate change threats, in the context of sustainable development and efforts to eradicate poverty.
"We would like to encourage the private sector to invest in green investments and work together with the government. Of course, the government can set up the policy, but real investment must come from the private sector," he told The Edge Financial Daily in an interview.
Furthermore, Syed Ahmad highlighted that corporations that do not implement sustainable practices in their businesses will be at risk of losing out in the competitive global environment.
"If you are not going green, then you will be left out. Even if you want to export products, people want to see what kind of sustainability practices do you have — the raw materials [that you are using], and the processes — whether it degrades the environment. It's a requirement now, and it's moving fast," he said.
One of the main challenges to green investments within corporate Malaysia is the lack of awareness, said Syed Ahmad, especially among financial institutions. Financial institutions, he said, need to assume a bigger role in providing financing for green investments.
"Of course, they (financial institutions) will have to look at the viability of those investments — what kind of returns they can get. But then they need to be aware that without providing that kind of investments, they would probably not be sustainable themselves in the future," he stressed.
Syed Ahmad argued that the government had, in fact, done its role in incentivising private financing for green initiatives, including institutional reforms, as well as providing tax incentives.
For instance, Syed Ahmad pointed to the Green Technology Financing Scheme (GTFS), whereby the government offers 60% government guarantee as well as a 2% per annum interest/profit rate subsidy on loans for the financing of green technology development.
"This year, we introduced GTFS 2.0, with an allocation of RM2 billion. Now, only RM1.5 billion worth of certifications have been issued, and out of that, RM1.3 billion worth of loans have been offered by the banks for these projects. So, you can see that the government has intervened. But, for me, the banks themselves need to realise and not to be dependant on government intervention in order for them to finance [these kinds of projects]," he explained.
Energy, Science, Technology, Environment and Climate Change  Minister Yeo Bee Yin said in September that Malaysia would need RM33 billion worth of investments in order to achieve its target of 20% electricity generation from renewable energy (RE) sources by 2025, from the 2% recorded in 2018.
At the time, she also pointed out that the investment needed to reach the RE target — which excludes power generated from large hydropower generators of more than 100 megawatts — will not come solely from the government, but also from public-private partnerships as well as private financing.
As such, solar power is the greatest potential for Malaysia for RE, Syed Ahmad said. This, he said, is an investment opportunity for Corporate Malaysia to tap into as the government has accelerated the initiatives to increase RE generation through large-scale solar and net energy metering projects.
In fact, Malaysia is already the third largest producer of solar photovoltaic (PV) panels in the world.
When asked if the 20% RE electricity generation is realistic, Syed Ahmad said, "Although I think it is ambitious, I don't think it cannot be achieved. It is still achievable.
"We need the private sector. Due to some priorities, the government has a limited budget on this. We need the private sector — which has the funds, actually — to come in and support this agenda.
"When we first started, there wasn't much take-up [on solar technology] because the cost of the solar PV was too high. Now, because of the various programmes we have conducted, we have managed to benefit from economies of scale and people are getting more aware. There are producers in the market, and there are people investing in it.
"[Now] you can see the rise in production of electricity from solar. So the trend is there and I see that there are a lot of opportunities for solar to go further," he said.
Link: https://www.theedgemarkets.com/article/go-green-or-be-left-out-%E2%80%94-greentech-malaysia